Security Services
Electrical Lighting Solutions are a company specialising in all aspects of electrical works with over 30 years of experience. We cover the whole of Kent for numerous large companies, car dealerships, organisations, builders, landlords & home owners.
Our security services such like our fire alarms are designed and installed to BS5839 and burglar alarms protecting all your valuables and premises.
We can design simple to complex fire alarm systems and emergency lighting systems and carry out their installation and maintenance.
We specialise in testing and inspection and can carry out inspections for house sales and surveys, for landlords looking to let their properties, PAT testing, fire alarm & emergency lighting routine testing & electrical condition reports.
All works are carried out to the latest British Standard & certificated with NIC certification and all domestic works signed off with part P certification.
Electric Gates
Installation of electric gate openers, controlled by remote key fob or telephone communication to open the gates. We can carry out repairs to existing systems and offer full maintenance packages.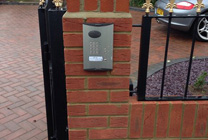 Electric Gate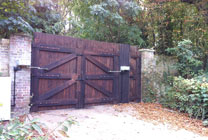 Electric Gate
EICR Landlord Tests
£104 + VAT
Electrical Lighting Solutions are able to carry out an EICR (Electrical Installation Condition Report) landlord tests on rented accommodation for a fixed fee of £104 + VAT.
EICR stands for Electrical Installation Condition Report and is an important part of landlord compliance required by HM Government Compliance.
The flat fee of £104 + VAT is for the Thanet area only.
We provide the following services so click on the links for more information.
We provide the following services so click on the links for more information.
Partners
We work with Rowe & Martin Decoration & Restoration as they provide a number of Decoration & Restoration services.
CCTV Installation
We can carry out full installations of CCTV systems to any requirements covering all areas of your property inside and out. We can stream that through your TV and or iPhone. All systems can have varying sizes hard drives to record the footage up to 3 months.
Door Entry Systems & Access Control
We can install simple door entry systems covering a minimum of one door up to 12 doors, with or without TV screens. Access control with an unlimited number of key fobs.
Alarm Installation
We can install simple and complex systems that can notify you through a speech or text dialler. We cover houses, shops & flats. Hard wired or radio interlinked alarms covering all rooms if required. Smoke, heat and carbon monoxide. Fire alarm systems for houses of multiple occupancy and blocks of flats. Also cover factories, warehouses. Wireless systems for building of architectural beauty like churches and museums. Smoke beams for large coverage.